Abercrombie & Fitch Black Checkered Shirt
f

Share
Get it!
Or visit
Abercrombie & Fitch site
or
store
See
stylish outfits
or post on

Brand
:
Price
: $55
Size
: M
Color
: dark blue,beige,navy
Material
: cotton
Pattern
: checkered
Style
: long sleeve,collared,button down
When I took a look at my wardrobe, I noticed that the majority of my shirts are monochromatic. Some of which have design patterns limited to the front area. It would be nice to wear something else once in a while, something with a different style that combines both the color and the pattern and apply them to the whole shirt. This Abercrombie & Fitch black checkered shirt fulfills that need nicely! Its dark blue and beige colors are a great combination and can easily pair with jeans to produce a neat outfit!
This men's button-down shirt features a black beige checkered pattern and double button cuffs. The collar is straight and fits around the neck unless you choose to unfasten a few of the upper buttons. There is one chest pocket. Overall its design is simple yet elegant. In addition, the shirt is made of very high quality, soft material and is quite comfortable to wear in all seasons!
Get it!
Or visit
Abercrombie & Fitch site
or
store
See
stylish outfits
or post on

I wear this checkered cotton shirt at any casual occasion and feel great about it! I usually wear the shirt buttoned and tucked in and sleeves rolled up to radiate spunk and spirit!
If you want a completely different feel you can untuck and unbutton your checkered shirt and leave it open as if you are wearing a jacket. This gives you that wild look few other shirts can match. The whole thing will come together even more so when you have a black T-shirt underneath. This getup is strictly informal, however. So what we have here is a dark blue and beige checked shirt that can be quite versatile in terms of when to wear and where to wear. It is less formal than a dress shirt due to the checkered pattern. Plus you can make it as informal as you want by simply unbuttoning the front. It's totally flexible!
To avoid being overly flashy with your appearance you should wear underneath your checkered shirt a plain colored shirt that bears no patterns in order to simplify things. The color of such shirt depends heavily upon the color of your checkered shirt. Since mine is dark blue and beige I chose to put on a simple gray shirt underneath to accentuate the contrast. You can experiment with either warm or cool colored undershirts but know that you can never go wrong with gray, black or white. Personally I love GRAY the best!
As for the jeans go for light blue jeans! A pair of Converse canvas shoes makes great footwear!
BUY this dark blue beige navy shirt NOW b4 they run out!

Manwan walk Men's Plaid Button Down Shirts Regular Fit Long Sleeve Casual Business Shirts

COOFANDY Men's Plaid Flannel Shirt Casual Button Down Cotton Lightweight Shirts

Men Plaid Cotton Casual Slim Fit Long Sleeve Button Down Dress Shirts
See MORE
---
Enjoy the following random pages..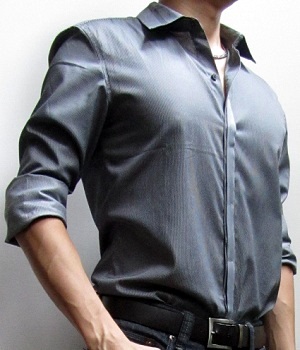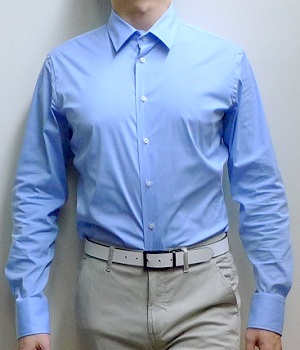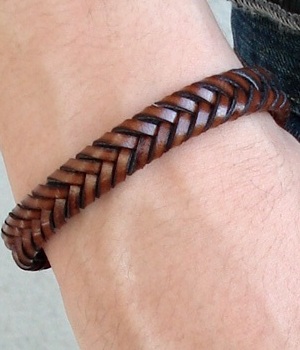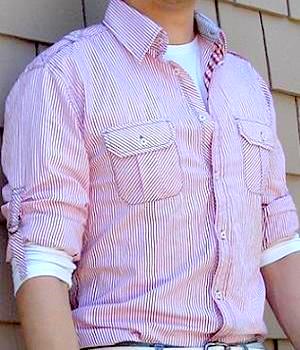 f

Share
f

Share
---
Men's Fashion For Less - by
Michael Wen
and Gloria Lee.
ADVERTISING WITH US - Direct your requests to Michael