How Would You Wear A Blue Jacket?
f

Share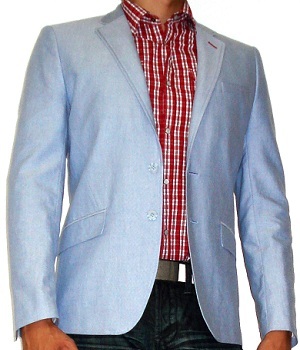 Photo #1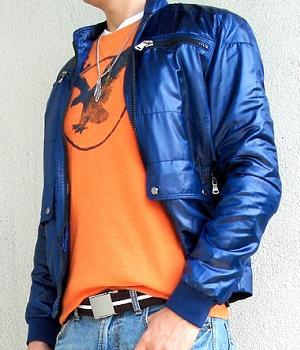 Photo #2
Blue jackets can be difficult to master with respect to pairing, but with some effort you can do very well. As usual all of the neutral colors go well with blue especially white and black. Just as a blue sky contrasts with white clouds, you can pair a blue jacket with a white t-shirt and a pair of blue jeans.
A blue jacket goes well with a t-shirt.
The following outfit on the left has a blue blazer and a white graphic tee. They look great together! The outfit next to it has a blue blazer and a light blue graphic tee, an equally attractive outfit. The remaining outfits show you that a blue jacket looks great with a t-shirt!




A blue jacket goes well with a red shirt.
Photo #1
shows a baby blue blazer worn over a red checked shirt. The warm feel of red is the center of attention and can bring out the liveliness of your outfit. A color close to red like pink has the same effect. Check out
Blue Blazer Pink Graphic Tee White Belt White Pants White Shoes
!
A blue jacket looks great with an orange t-shirt.
Photo #2
shows a dark blue jacket worn over an orange graphic t-shirt. Blue and orange naturally go well together. One is cool color and one is warm color and they contrast each other perfectly!
Blue is great with white and black!
Photo #3
shows a light blue jacket worn over a white dress shirt and they look perfect. In this case white goes better with light blue than dark blue. Also the style matters here. In
Photo #3
the blue blazer and the white shirt are both formal garments. If one of them is casual they may look awkward together.
Blue is also kick ass with black.
Photo #4
shows a shiny dark blue jacket worn over a black graphic tee, and they are a great match. In this case you can wear a solid black t-shirt too because the jacket has enough design on it.
Learn from Nature!
Dark blue resembles the color of a deep ocean. Therefore whatever the colors you can find in a deep ocean you can put on to match the dark blue jacket. Imagine three light yellow tropical fish swimming in a dark blue ocean; they compose a beautiful scene. You can put on a yellow tee with a dark blue jacket with black pants. Remember yellow is the contrast color to blue and therefore it cannot overshadow the blue. The yellow needs to be in small proportion when the theme color is blue.
Blue goes well with its neighbor color green. Light blue jacket should match a dark green tee just as a dark blue jacket matches a light green tee. You cannot have both colors in dark or in light; the whole image will be too heavy or too bright respectfully.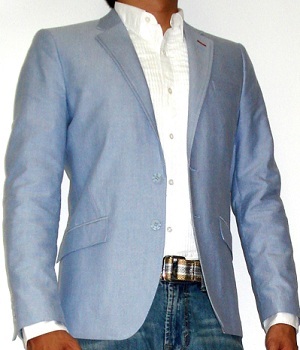 Photo #3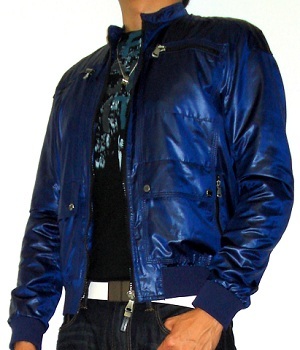 Photo #4
---
Enjoy the following random pages..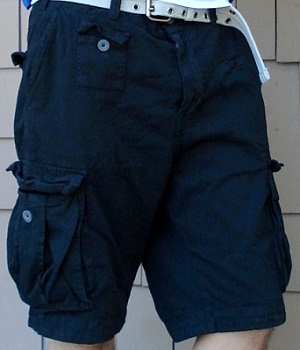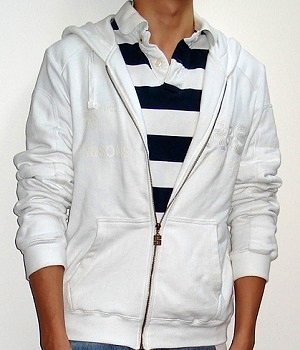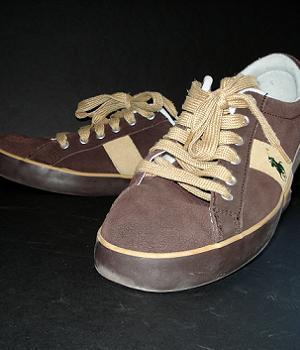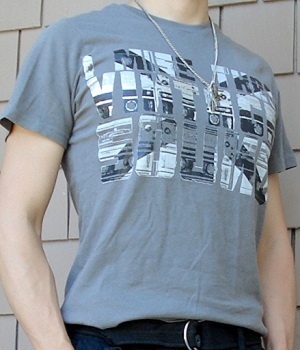 f

Share
f

Share
---
Men's Fashion For Less - by
Michael Wen
and Gloria Lee.
ADVERTISING WITH US - Direct your requests to Michael